Expert Maintenance and Service to Make Your Vehicle Last a Long Time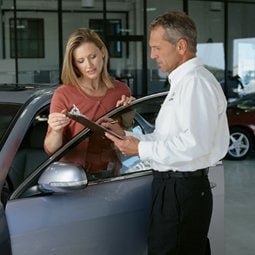 Oil changes. Tire rotations. Brake inspections. The list of services your Ford vehicle needs overs its lifetime is lengthy, and the service center at Duvall Ford Company Inc is there to help you get them all done, every step of the way. Prevent larger maintenance issues from popping up in the future, and keep your vehicle running great in the present, with assistance and service from the Ford certified and trained technicians in our professional, in-house service center.
Trust Duvall Ford Company Inc for Routine Maintenance & Larger Repairs Alike
Every car needs a basic level of routine maintenance performed, per the vehicle's owner's manual. This typically involves things like oil changes, filter replacements, tire rotations, and more. We can take care of those routine services so you can focus more on enjoying your vehicle and less on tinkering under the hood. And if your car requires a larger fix, we can tackle that too. After all, who better to trust than the ones already taking care of your car?
Schedule Ford Service in Clayton Today
If you know what your vehicle needs and just need to schedule an appointment, you can do so easily online. We'll confirm your appointment, then all you have to do is show up and relax in our waiting area knowing that your car is receiving the care it deserves. If you have any questions about servicing your car or aren't sure what maintenance is required next, reach out to us with any questions.
For a Service appointment, please call us at
(877) 843-5518